English

Wigmore Hall's Education Programme
with more than 400 events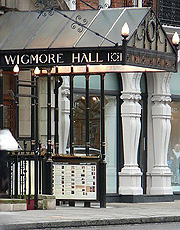 Wigmore Hall is situated in a quiet street just to the north of the busy shopping street, Oxford Street, in the heart of London's West End. Although it is best known for offering high-quality chamber music and solo recitals, it also hosts a rich educational programme as well. About 440 educational events run throughout the year constantly, except during the summer holidays. What sort of events are held there, and how?
An intimate hall for chamber and solo music

Wigmore Hall has a history of over one hundred years. It opened on 31 May 1901 under the name of Bechstein Hall, next to the London showroom of the German piano maker, Bechstein. However, with the increase of anti-German sentiment during the First World War, Bechstein had to wind up their affairs in the UK by order of the Board of Trade, as well as other German companies. All their assets, including the hall and 137 pianos, were auctioned off in 1916. The hall itself was resurrected in 1917 and renamed Wigmore Hall, after the name of the street.
From its early period, the hall welcomed many of the most famous musicians of the day, including Busoni, Saint-Saens, Rubinstein, Casals, Cortot, Poulenc, and Britten, to name a few. Also, it saw many young talented musicians make their debut in London. With 537 seats including a balcony, and a stage which accommodates up to 15 performers, this small hall has established a reputation as a home for piano and vocal recitals, chamber music, early music, and jazz. As this is the music that has been enjoyed mainly at home, it aims to be both greatly impressive, yet at the same time intimate. It also hosts a concert series that support young musicians starting out on their career.
According to its concert calendar, Wigmore Hall hosts over 400 concerts a year, almost every night except for the summer holidays in August, including lunch time concerts mainly on Sundays and Mondays. The total sales of tickets amount to approximately 165,000 each year. In addition to that, amazingly, it also hosts over 400 educational events per year.
A Balanced Education Programme for toddlers, teenagers, adults and older people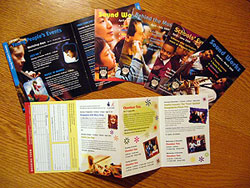 Brochures of Wigmore Hall Learning
Wigmore Hall Learning is the department that oversees the educational programme at Wigmore Hall, launched in 1994 under the name Wigmore Hall Community and Education. The department has devised creative events for people of all ages, levels and musical experience, using its rich resources, such as the hall facilities, materials, and network of musicians, musical works and the community. It aims at enhancing opportunities for those who are easily excluded from the regular art scene, to be inspired, learn, and make connections through music.
Wigmore Hall Learning started in response to the long felt needs of the hall itself, to work on broader potential audiences for the future, as well as the needs of its local community in the City of Westminster. It is now supported by funding from and its relationship with the City of Westminster, other musical and educational charities, and also by donations from individuals.
The programme is organized, well-balanced, and rich in variety, targeting toddlers, teenagers, adults and older people. Its main activities are as follows:
1.

Events at Wigmore Hall
Pre-concert Talks / Master classes / Concerts for families / Concerts for young people / Workshops (forthcoming events)

2.

Schools' Network
Working with over 40 schools a year, including a long-term partnership with 8 schools in the City of Westminster

3.

Ensemble Ignite
Forming an ensemble called 'Ignite' of young musicians and sending them to the local youth centres, family centres and hospitals, to perform programmes that have been specially devised for the purpose

4.

Music for Life
A pioneering programme working with patients with dementia and their carers at hospitals, care centres and residential homes

5.

Chamber Tots
A flagship programme working with toddlers aged from 2 to 5 years old and their carers, combined with mini-concert and workshops. Chamber Tots at Wigmore Hall / Chamber Tots in the Community

6.

Internet materials
School teachers and nursery staff can see and download materials online, such as instruction videos about instruments, music clips and musical scores, to use in classrooms and before the school concerts.

7.

Chamber Zone free tickets
Young people aged 8 to 22, and schools can book free tickets for certain chamber music concerts. During the season from September to December 2009, 8 concerts such as trios, quartets, chamber orchestras and jazz are on the list. Related workshops can be arranged for schools, with some 'Concert - Workshop - Curriculum' combination suggestions. It is supported by chamber music charities and others.
Annual schedule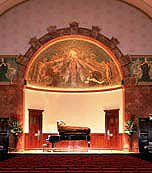 In the 2008-2009 season, 443 education programmes in total took place in 53 different settings, such as the hall, schools, nurseries, youth clubs and care centres, and 16,235 people attended them. Let's take a look at how those events at the hall were arranged throughout the year.
The number of events at Wigmore Hall held during the past year (January 2009 to December 2009), although this may vary according to how they are counted, is around 120. There are about 40 events during each season - January to March, April to July, and September to December. As you can see from the list below, events are held constantly throughout the year, but certain months are busier, such as February, May to June, and October to November, with almost daily events and more than one event per day. It is because most of the events are linked to certain concerts, and sometimes they devise more than one event out of the same concert, artists or materials, creating variation in the target or form of the events.
Looking at these 120 events in terms of their targets, 38 events are targeted at toddlers and children aged around 2 to 10 years old, 33 are for teenagers, and 82 are for adults in general. For convenience of classification, I labeled events specially devised for teenagers and those with a student discount as 'for teenagers', and talk and study events which are not specified at a particular target as 'for adults'; however, teenagers can attend the events 'for adults', obviously, so the division between these two is not fixed. When you divide the whole events into two groups, children and adults, they are roughly half and half.
Looking in terms of the form of the events, there are 4 groups - talks, study events, workshops, and concerts. Although 'talks' increase depending on the number of concerts, and some 'study' events are intensive, the average number of each form is balanced at around 10 per season. 'Talks' are about the programme, instruments or composers of the evening concert with the artists or experts, for 45 minutes before the concert. They are free or about £3 each.
'Study events' are one-off or series of programmes that investigate a certain theme. There are lectures, master classes, listening to recorded or live demonstration music, introductions for beginners, and close investigations of certain topics. They range from 2-3 hour courses, to whole-day programmes, combined with lectures, workshops and concerts. The average fee is a few pounds to over £10 each.
'Workshops' and 'Concerts' as educational events are devised specially for the target group, such as toddlers, students, and families, with the themes of certain instruments, composers and so on. The participants can learn about music while listening to live music, taking part in music making, or associating with pictures, stories, history, animation and manga, which attract young people. The fee is between £2 to £10.
Let us take a look at these events more closely next time!
Date
Talk
Study
Work-
shop
Concert
Topic
age
children
teenagers
adults
6-Jan Tue
400 years of Chamber Music in London(11sessions)
13-Jan Tue
400 years of Chamber Music in London
20-Jan Tue
400 years of Chamber Music in London
20-Jan Tue
Chamber Tots
2-5
23-Jan Fri
Introduction to Music - Chord in 12th century(4sessions)
27-Jan Tue
400 years of Chamber Music in London
28-Jan Wed
Artist Talk with Clarinettist/ Composer
29-Jan Thu
Chamber Tots
2-5
30-Jan Fri
School Concert- Percussion(Keystage2)
7-11
31-Jan Sat
Family Concert - Percussion
5+
3-Feb Tue
400 years of Chamber Music in London
6-Feb Fri
Introduction to Music - Chord in 17th century
7-Feb Sat
Family Concert - Violin
5+
10-Feb Tue
400 years of Chamber Music in London
11-Feb Wed
Artist Talk - Concerto for marimba and strings
11-Feb Wed
Chamber Tots
2-5
12-Feb Thu
Pre-concert Talk - Vivaldi and Baroque music
14-Feb Sat
Pre-concert Talk - Handel, Acis and Galatea
17-Feb Tue
400 years of Chamber Music in London
17-Feb Tue
Picture Perfect - Make animation with music (3sessions)
8-
13
19-Feb Thu
Picture Perfect - Make animation with music
8-
13
19-Feb Thu
Haydn's String Quartets (3sessions)
20-Feb Fri
Picture Perfect - Make animation with music
8-
13
20-Feb Fri
Introduction to Music - Chord in 19th century
24-Feb Tue
400 years of Chamber Music in London
24-Feb Tue
Haydn's String Quartets
25-Feb Wed
Chamber Tots
2-5
27-Feb Fri
Introduction to Music - Chord in 20&21st century
27-Feb Fri
Pre-concert Talk - Haydn's Orchestra
28-Feb Sat
Haydn's String Quartets
28-Feb Sat
Family Day 'Haydn Seek' - Paint pictires with music
5+
3-Mar Tue
400 years of Chamber Music in London
5-Mar Thu
Pre-concert Talk - Composer
7-Mar Sat
Pre-concert Talk- Haydn's String Quartet
10-Mar Tue
400 years of Chamber Music in London
12-Mar Thu
Pre-concert Talk - Lieder compositon and the poets
17-Mar Tue
Chamber Tots
2-5
17-Mar Tue
400 years of Chamber Music in London
21-Mar Sat
Family Day 'Rapunzel' - Song writing & storytelling
5+
21-Mar Sat
Haydn's London in 1790 - Talk, Walking & Concert
25-Mar Wed
Pre-concert event - Eliott Carter's 100th Birthday
28-Mar Sat
Remix Bach with DJ/Composer
11-
16
11-Apr Sat
Pre-concert Talk - Charpentier
17-Apr Fri
Pre-concert Talk - Mozart's chamber works & period performance
18-Apr Sat
Young people's Day - DJ Bach (Autistic Spectrum Disorders)
10-14
30-Apr Thu
Pre-concert Talk- Haydn's life and music
5-May Tue
Chamber Tots
2-5
6-May Wed
Composers and piano trio - Haydn, Shostakovich
7-May Thu
Collaboration voiceworks of young composers & English students
8-May Fri
Artist Talk - Viola da gamba
9-May Sat
Study Day - English composer James MacMilan's work 1
9-May Sat
Study Day - James MacMilan in conversation
9-May Sat
Study Day - James MacMilan's work 2
9-May Sat
Study Day - Explore James MacMilan
9-May Sat
Study Day - James MacMilan's work 3
13 Wed
Stravinsky The Soldier's Tale and exile
19-May Tue
Wolf's Italienisches Liederbuch
21-May Thu
Chamber Tots
2-5
23-May Sat
Family Concert - Tale of Giddy Goat
5+
3-Jun Wed
English Song - Vaugan Williams, Finzi
4-Jun Thu
Chamber Tots
2-5
13-Jun Sat
Young people's Day - Are you an artist or musician?
11-16
14-Jun Sun
Pre-concert Talk- Handel, Purcell, Haydn
16-Jun Tue
Study and Master class - English Songs (3sessions)
17-Jun Wed
Chamber Tots
2-5
18-Jun Thu
Study and Master class - English Songs
19-Jun Fri
School Concert - Bee's life (Keystage2)
7-
11
20-Jun Sat
Family Workshop 'The bees' - Music and instrments making
5+
20-Jun Sat
Family Concert - Bee's journey from England to Australia
5+
20-Jun Sat
Family Day - Story behind the picture & music @museum
6+
22-Jun Mon
Study and Master class - English Songs
24-Jun Wed
School Concert - Tudor music - history(Keystage2)
7-
11
27-Jun Sat
Family Day - Story behind the picture & music @hall
6+
5-Jul Sun
Pre-concert Talk - Handel's English Cantatas and London life
7-Jul Tue
Chamber Tots
2-5
9-Jul Thu
Pre-concert Talk - Serenades by Mozart and Hummel
12-Sep Sat
Late chamber music of Cesar Franck(3sessions)
15-Sep Tue
Late chamber music of Cesar Franck
16-Sep Wed
Introduction to Jazz Music - improvisation (4 sessions)
17-Sep Thu
Late chamber music of Cesar Franck
19-Sep Sat
Open House - concert and workshop
20-Sep Sun
Pre-concert talk - Schubert songs
23-Sep Wed
Introduction to Jazz Music - form
25-Sep Fri
Pre-concert talk - Baroque music
28-Sep Mon
Mendelssohn's String Quartets (11sessions)
30-Sep Wed
Introduction to Jazz Music - harmony
3-Oct Sat
Jazz study - Oscar Peterson
5-Oct Mon
Mendelssohn's String Quartets
7-Oct Wed
Introduction to Jazz Music - composition
10-Oct Sat
Workshop for young people - sing in a jazz style
11-16
12-Oct Mon
Mendelssohn's String Quartets
13-Oct Tue
Artist Talk with composer
15-Oct Thu
School Concert - jazz(Keystage3)
11-14
15-Oct Thu
Panel Discussion - Jazz as chamber music
16-Oct Fri
Chamber Tots
2-5
17-Oct Sat
Family Workshop - Jazz songs
5+
17-Oct Sat
Family Jazz Concert - BeeBopped
5+
19-Oct Mon
Mendelssohn's String Quartets
26-Oct Mon
Mendelssohn's String Quartets
27-Oct Tue
Chamber Tots
2-5
31-Oct Sat
Film combining music and images - Kevin Volans Day
31-Oct Sat
Artist Talk- Kevin Volans Day
2-Nov Mon
Artist Talk with tenor singer
2-Nov Mon
Mendelssohn's String Quartets
5-Nov Thu
Chamber Tots
2-5
7-Nov Sat
Family Concert - Quartet and clowning music
5+
9-Nov Mon
Mendelssohn's String Quartets
12-Nov Thu
Master class - Songs by Purcell, Britten
12-Nov Thu
Pre-concert Talk - centenary of Albeniz's death, and Iberia
13-Nov Fri
Master class - Songs by Purcell and Britten
13-Nov Fri
Pre-concert Talk - The virtuosity of Alkan
14-Nov Sat
Young People's Workshop - Music and Manga
11-16
16-Nov Mon
Mendelssohn's String Quartets
18-Nov Wed
Pre-concert Talk - The art of the countertenor
19-Nov Thu
Chamber Tots
2-5
21-Nov Sat
Family Day 'Myths and Legends' - Music and Paintings
6+
22-Nov Sun
Pre-concert Talk - The Virtuoso Voice
23-Nov Mon
Mendelssohn's String Quartets
27-Nov Fri
School Concert - Darwin (Keystage2)
7-
11
30-Nov Mon
Mendelssohn's String Quartets
2-Dec Wed
Chamber Tots
2-5
7-Dec Mon
Mendelssohn's String Quartets
16-Dec Wed
Pre-concert Talk - Introduction to the work to be premiered