PTNA Comprehensive Musicianship Seminar Series 2018-2019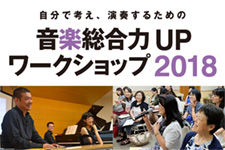 The PTNA Comprehensive Musicianship Seminar Series announced its program for the year 2018-2019
. Here is the list of 10 lecturers and programs.
1) How To Improve Your Interpretation and Performance of The Competition Repertoires?
April 18th, 2018
Kunio Sasaki, composer & Keiko Sasaki, piano teacher

2) A New Perspective on Musical Understanding - from the competition repertoires to "appropriate (equal)" temperament
May 23rd, 2018
Genzo Takehisa, keyboard player

3) Let's Do Conducting at Piano Lessons
June 13th, 2018 * An after party will be arranged.
Tatsuya Shimono, conductor

4) How Does a Percussionist See Music?
July 18th, 2018
Atsushi Sugawara, timpani player

5) Create a Concert with a Big Appeal for Audience
September 5th, 2018
Ohko Arai, author

6) Pianists and Ensembles
October 31st, 2018
Shigeo Neriki, pianist

7) The World of Bass Tones That Support Music
November 15th, 2018
Shu Yoshida, double bass player (NHK Symphony Orchestra)

8) Communication Between Tuners and Pianists
December 19th, 2018
Atsushi Komiyama, tuner

9) Psychological Differences Between Western and Eastern World- When Japanese Study Western Music
February 13th, 2019
Teruhiko Komori, Baritone

10) Let's Play With Piano!
March 13th, 2019 * An after party will be arranged.
Takashi Niigaki, compoert
---
Nanako Sugiura, one of the attendees at the Tokyo venue, has been impressed with lectures and performances by renowned figures in the music world in Japan. This seminar series have wide range of topics including piano, strings, voice, composition, etc., and their presentations have always motivated her to apply them to the piano lessons. Furthermore, she has been greatly impressed with their professional attitudes and passion toward researches.

Sachiko Yazaki has always been struck by lecturers' attitudes toward music and lives as musicians, and strongly moved by their soulful performances. Now she tries to broaden her perspective by studying not only piano, but also other instruments and musical genres.

Hiromi Yamazoe, an e-learning course attendee living far from Tokyo, always enjoy watching these programs online through her 27 inch PC and a highly sensitive speaker. She appreciates this e-learning system which enables her to study anytime she wants and write reports as a seminar attendee.
Mari Takeda, the chairperson of PTNA Media Committee and a professor of Tokyo College of Music, expects that attendees could learn various topics that they would not choose by themselves. As all the lecturers are experts at their own musical fields, attendees could feel their energy and get involved in music furthermore, says Takeda.