The PTNA E-learning Service Offers Free Trial Period For 2 Weeks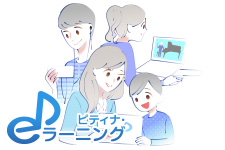 The PTNA e-learning service offers a variety of programs to its subscribers through PCs, tablets, and smartphones. PTNA members who do not apply to this service are eligible to use it free of charge for 2 weeks until the end of January 2018 (Annual subscription fees: PTNA members 6,000yen / non-PTNA members 8,400 yen). Here is a list of the programs.
-Seminars for the PTNA Piano Competition Repertoires
The PTNA Piano Competition Repertoires Seminars have been held on the 1st and 2nd of March every year. The e-learning service subscribers may watch the seminars of 2016 and 2017 at present. 2018 version will be available in the middle of next March.
-PTNA Piano Teachers' Seminars
PTNA Piano Teachers' Seminars, organized by the PTNA headquarters, have been held once a year in April. Currently, vol.45- 50 are available online. Vol.51 will be uploaded in the middle of May. The 1st session consists of short lectures (10-20 minutes each), and subscribers can watch them separately.
-PTNA Special Seminars
The special intensive seminars featuring specific composers such as Bach, Chopin, etc. or specific themes such as piano concerto performances, have been held once or several times a year.
There are some programs that are specifically designed and filmed for this service.
-Special Investigation Series by Akira Imai
Akira Imai, pianist, explains the basic knowledge and interpretation of classical pieces by using Sonatinen-Album which he edited (published by Zen-On). 15 videos are available at present.
-Lecture Concerts from the PTNA Public Recording Concert Project
There are several lecture concerts among the PTNA Public Recording Concert Project. These are the programs that are currently available; "Lecture series about Haydn, by Rintaro Akamatsu (pianist)", "Piano Arrangements", "Yasushi Ueda(scholar) talks about J.S.Bach and Piano in the 19th century- How were Bach's pieces creatively arranged?", "Bach's discovery of piano, by Genzo Takehisa), etc.
-Various PTNA Piano Seminars
There are a variety of piano seminars held in the TO-On Hall (at the PTNA headquarters). They have been occasinally filmed for the e-learning service, such as Bastien Method Perfect Seminars, seminars of a newly published book, seminars of piano studio management, etc. Piano teachers' interview series (about 5 minutes each) are also available.
Hiromi Matsuda, a PTNA member and one of the e-learning subscribers, started to watch the e-learning programs from two years ago. She usually watches short programs between piano lessons. This online service have brought her opportunities to discover interesting lecturers and topics that she had not been aware of.
Hiroe Isshiki, began to subscribe this service as she to had to teach a lot of little children, and had less time to go to seminar venues far from her studio early in the morning. Now, she likes to watch the seminars of competition repertoires in particular. Sometimes she watches them together with her students in order to choose their repertoires, and also watches them again for further understanding and new discoveries.