The 51st Piano Teachers Seminar 2018 Reveals Its Programs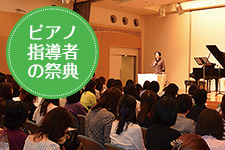 The 51st PTNA Teachers' Seminar will be held on April 22nd 2018
. It is like a teachers' festival with over 300 audiences every year. This year, the 1st section will be 20-minute-presentations by 6 teachers. Here are the list of the titles and presenters; "Miyoshi Method - How to get started effectively" (Mari Takeda), "Practice Harmonies - Relate hand postures and harmony" (Yo Nishio), "Czerny as A Treasure of Sounds and Expressions - Czerny Op.453" (Yukiko Hibiya), "To Raise Students Who Truly Love Piano - Examples from daily lessons and studio concerts" (Kimiko Hayashi), "Introduction to the Piano Arrangement of Popular Music"(Masa Matsuda), "Nurture and Encourage Children To Go To the World" (Mizue Tanase).
The 2nd section will be the lecture by a renowned TV newscaster and author, Rie Uozumi. She will speak about how to talk to students, how to hear them, how to communicate with them effectively in piano lessons. The lecture will be followed by a panel discussion with 3 successful candidates of all grades of the PTNA Teachers' License (Midori Yosida, Akiko Kojiro, Maki Wada), and an awarding ceremony for all the successful candidates in 2017.
The 3rd section will be a special guest interview featuring Ikuyo Nakamichi, a renowned pianist who celebrates her 30th anniversary since her debut. She actively engages herself in music education nowadays. She will speak about what music brings to children, and what music brings to society, based on her own experiences. Arisa Iida, a music writer, will serve as the interviewer.
In between the sections, poster sessions will be held in a hallway. 7 teachers will illustrate their ideas on big posters, and answer questions from audience at lunch time. Here are the list of presenters; Kaoruko Ito, Akiko Ishii, Tazuko Hamamoto, Kaoru Ogami, Akemi Ueda, Miki Akoe, Tomiko Atsuji (successful candidates of Teachers' License, representatives of STEP Stations, etc.) .