580 STEP Venues in 2017! A Trend of Using STEP As Rehearsals Of Competitions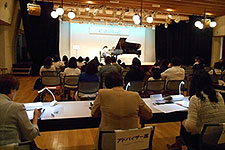 This year the number of the PTNA Piano STEP venues has reached 580.
It is well received and used by various people for various purposes, for instance, as rehearsals of competitions, auditions, music college examinations, concerts, etc.
Especially this season, a number of students are preparing for the elementary exams scheduled early next year. And one of the recent trends is considerable increase in the number of piano teachers who are going to take the Teachers License Exam, concerts, etc. The number has been increased by 1.5 times compared to that of 5 years ago.
Then, what are the advantages of STEP?
1. You can take part in STEP whenever, wherever, and what ever the pieces you like.
2. You can choose pieces longer than 15 min, so that you can play full movements of sonata, suite, etc.
3. You can take part in STEP with piano or without piano, whether it is solo or chamber music pieces.
Here are some of the testimonies from piano teachers.

Saori Nobata, the representative of Toyohashi SAKURA Station, has several students who are going to take entry exams of music high schools. She recommends them to take part in the STEP for the mental preparation so that they can realize how they would feel on stage and understand what should be done before the exam. In the STEP she organized in November, there was a participant who played both piano and singing. Later, one of the audiences who is a preparatory students for music colleges, asked her if he would take part in the STEP with clarinet (major) and piano (minor).
Yayoi Katsurayama, one of the exectives of PTNA Wakayama branch office, thinks that STEP is useful as it does not require any specific repertoires. Participants can play whatever pieces they think necessary. It is crucial to have this system, says Katsurayama. Furthermore, for those who are willing to go to music colleges from the ordinary high schools can make friends or feel motivated at STEP venues by meeting with like-minded companions.
Yumi Koike, the representative of Tateshina Salad Station, always tells to her students that 1 stage performance is more fruitful than 100 lessons. Advisors comments remind them what she usually tell them as well as what she is not aware of. Those give them confidence, and at the same time, opportunities to improve their performances. For those who learn singing do not have enough opportunity of stage performance, so she recommends them to take part in the STEP. Sometimes advisors point out the remediation of intonation and pronunciation of foreign languages、based upon their experiences of studying abroad. Advisors are really good at finding strong points and praising, says Koike.
Then, how do participants use the STEP?
Nanako Onobe, a freshman of Tokyo Music College, has been used to play several smaller stages (STEP) before going on to a big stage (competitions). Especially it is essential for her to play in big halls to feel and explore sonorities, and to check up her apprearances and postures on stage afterward through videos and recordings. It is also indispensable for her to read various opinions from advisors, which enables her to bring perrsonality to her performances but not fall into self-satisfaction. Making good balance is her ultimate goal.
Nanami Yamane, a senior of Elisabeth Music College (Hiroshima), took part in the STEP twice 2-3 months before the entrance exam. As she walked on stage, she realized that she felt nervous in a big hall. She received warm and motivating comments from advisors, which encouraged her to prepare more in detail for a big goal. As a college student, she has much more opportunities to play in public, not only competitions but also school events or public concerts at parks. As she knows that she becomes nervous in public, she takes part in the STEP on a regular basis to get herself used to big audience, and enjoy the moment with them.
-For the preparation of License Exam
Madoka Ohno, a candidate of the PTNA Teachers License Exam, took part in the STEP several time as the rehearsals for exam and concert. After listening to the recordings, she found several issues to be solved which she had not been aware of before. She regards that the stage performance is truly her own ability as it reveals everything. "Stage performance is the ultimate goal and it gives me opportunity to grow myself. That is why I can recommend it to my students."
As of November 2017, 64% of the successful candidates of all grades (95 out of 149) took part in the STEP. Piano Teachers are more likely to participate in STEP these days; 761 in 2011 -> 1154 in 2016.