PTNA Ensemble Park 2018 Will Provide A Musical Workshop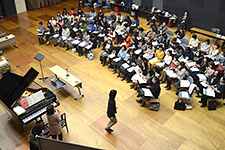 "PTNA Ensemble Park" will be held on February 24th-25th 2018
at the Showa University of Music, which enhances exchange and communication between PTNA members. A musical workshop and exchange programs are scheduled to be held.
The musical workshop on the 1st day is designed to learn and explore various ways of expression through creative exercises (limited to 45 participants, discussion available for new PTNA members). Yoshikazu Yokoyama (stage producer / script writer) and Kaori Hagiwara (singer) will serve as lecturers. Here are the programs; 1) try vamps with short melody and rythms 2) express poems with body movements 3) put stories to music 4) try musical performances ("The Little Prince"). Those creative group works using music and stories will help piano teachers to explore aesthetics and expressions for ensemble performances, that are not frequently incorporated in the practices for solo piano.
On the 2nd day, PTNA head office staff will explain about PTNA and its activities such as STEP, competition, seminars, PTNA Encyclopedia, PTNA branch offices, PTNA satellite stations, etc. Some station representatives will share their activities and ideas. In the afternoon, "teaching kalte session" will be held at a STEP venue, which will be jointly organized next to the main hall. Participants will listen to the performances and write commentaries as if they are STEP advisors. Then, they will come back to the main hall and discuss their commentaries. Senior PTNA members (PTNA ensemble & international exchange committee members, PTNA station representatives) are expected to give advices and counselling.