How Do You Improve Your Technical Foundation?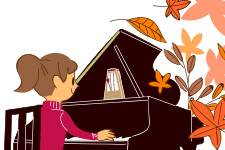 How do you build your technical foundation?
After the PTNA Piano Competition ended in summer, autumn might be the best season for improving your techniques.
Chicako Inagaki encourages students to amplify images in music through her words and sounds. For her, even Czerny Etudes could be used for image training. In her studio concert, she sets up time for Czerny performances , called <Czerny Relay>, in which students play Czerny's 100 Etudes (op.139), 50 Etudes (op.740), etc., in order to listen to each other and share all the different images. In the STEP event, she also sets time for sharing Czerny performances together with students of other studios. She regards that teachers should discover beautiful elements in any pieces which they have chosen for students, and help students find them by themselves.
Shuko Matano always reminds students of the importance of basic techniques. She makes them to practice Czerny and Hanon in their early stages, and come back to them whenever necessary, as she thinks it important to combine technical finger trainings and music making. Even before competitions, she asks them to play scales and arpeggios that are relevant to the pieces they are practicing. She encourages students to take part in the STEP to remind them what they have learned in daily lessons, and to ruminate them from other perspectives through advisors messages.
Miyuki Ichikizaki regards that not only technical practices but also listening skills, interpretation, expression, joy of music making, are important to nurture the comprehensive musicality. As an author of piano educational materials for beginners, she provides students with short materials, such as excerpt of 4-8 bars, so that they can understand how to read scores in a short period of time and keep practicing repeatedly. For the beginners, images and titles are also important to amplify the images, says Ichikizaki. She tends to ask students to play basic techniques whenever possible, and find out what have been accomplished and what are missing. She exchanges lesson diaries with students to help them consider how much they should spare time for basic trainings, and that eventually facilitates their individual learning attitudes.
Miami Sugawara demonstrates the process and order of practicing at home. For instance, 1) sing the note and play, 2) name the notes and play with musical time and rythm, 3) sing with lyrics and play at the same time in order to feel the breath and phrasing. She believes that it becomes more important to consider the process of practicing for effective music learning as the grades advance. Sugawara prohibits students to play through a piece without any purpose. She encourages them to set goals first, consider the process of practicing, and find out the best ways to achieve those goals. Parental supports are also essential.
Yasushi Ueda, the author of a new guide book for Czerny's 30 Etudes (op.849), wrote that Czerny is not music for boring technical trainings. For instance, No.1 is Baroque-styled gigue, No.2 is like Shubert-styled Lied, No.16 sounds like Paganini-styled violin piece, No.28 is almost a Beethoven-styled symphonic piece, etc. "You might find a rich music world beyond the technical finger trainings in Czerny's etudes" says Ueda.