PTNA CrossGiving Projects Introduces New Lists of Activities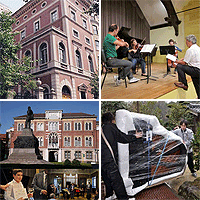 "
PTNA CrossGiving Project
", launched in March 2012, is pleased to introduce
the new list of individual / group projects
and desired amounts of contributions according to their purposes and scales of activities. Those projects are led by PTNA members in pursuit of public benefits within the music field. They are categorized into three areas as follows; 1) education, 2)charity, 3)public service.
The principal aim of the "CrossGiving" is to let the music and the people in the music field pay more important roles in the society. Contribution is one of the ways to manifest our wish, and to make engagement to the society. Through the "exchange" of those contributions one another, the sense of gratitude would go across dynamically and keep the society alive.
On receiving the contributions, PTNA will add the same amou
http://www.piano.or.jp/info/crossgiving/
nt onto them to make the total contributions double ("matching gift"). Please feel free to choose projects of your interest and make contributions online. Here is the
list
.
I. Education

1) "Fabbri Chamber Concerts" (New York) was inaugurated in 1999 by a Japanese pianist Kazuko Hayami, who has been served as the music director since then. Renowned artists like Stanley Drucker, Charles Neidich etc. has appeared in this historical building where Fritz Kreisler once played in the housewarming party in 1916. The prospective amount of contribution is 300,000yen, which will be used for concert management, website building, and the establishment of the foundation.

2) "Chichibu Music Festival, Youth & Muse Program" (Tokyo, Japan) will be held every August, inviting renowned professors and musicians from abroad. Prospective amount of 300,000 yen will be allotted to be a part of their travel costs.

3) "Tokyo-Milano Chao Station" (representative: Aki Kuroda) will hold the local audition for "Piano Talents 2013" and will give the prize of 240,000yen that covers winner's travel cost between Japan and Italy, as well as the travel accompaniment by prof.Kuroda in Milano.

4) "Yasuko Fukuda Scholarship Foundation" is established to encourage young talented pianists to study abroad, as well as to provide them opportunities of masterclasses by renowned professors. Prospective amount of 100,000 yen will be used for a part of their travel costs and honorarium. *This amount has already been fulfilled thanks to 5 contributors and supplementary amount given by PTNA.
II. Charity

1) "Piano Donations for Japan Disaster Affected Public Schools" was established just 3 months after the event of March 11th, and has been bringing over 100 pianos to public schools and institutions so far. The prospective amount of 100,000yen will be used for purchase and transportation of instruments.
*This amount has already been fulfilled thanks to 5 contributors and supplementary amounts given by PTNA. On April 27th, PTNA charity concert & rehearsal was held and total amount of 835,000yen will also be donated to this association.