PTNA Piano Competition Announced the Repertoires For 2017!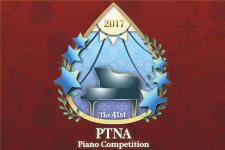 PTNA Piano Competition announced the repertoire for the edition 2017
. There will be several events for in-depth learning about the repertoires.
On April 22nd
, Shohei Sekimoto, pianist, will perform and explain about the chosen pieces from the grade B and C.
There are several changes in the PTNA's regulations this year. The number of finalists will be increased in the grade D, duo with two pianos (elementary and intermediate levels), Y and J categories of the GrandMuse division. And the pre-elementary level of the duo division will have a final stage in August. Finalists will be required to play the two pieces that they will perform in the 1st and 2nd stages.
There is also a modification in the prerequisite conditions for the Teachers' Prize. One of the prerequisites, "8 students or more have to proceed to the regional final round(2nd stage), and one of them should reach the prize of excellence", is modified to be "8 students or more have to proceed to the regional final round (2nd stage).
On May 11th, the writing examination will be taken place as a part of the PTNA Teachers' License. Chosen pieces from the competition repertoires will be used for the exam. Prior to this event, a study session will be held on April 5th, having a music scholar as a lecturer (Yo Nishio).
A monthly magazine "Musicanova" is featuring a special article about how to study and prepare for the competitions. You can see the iconic image of PTNA Piano Competition on the cover of its latest edition.