PTNA Special Concert Was Held to Celebrate its 50th Anniversary!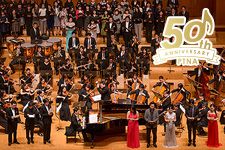 PTNA 50th Anniversary Ceremony was held in Tokyo on February 28th (->see video)
. Nearly 600 PTNA members gathered to celebrate its anniversary.

At the beginning of the ceremony, Nobuyuki Idei, the president of PTNA, addressed that PTNA had developed as one of the most unique associations in the world which built a cultural platform in Japan in collaboration with piano teachers, students, parents, and expected that it would spread its activities and impact on a global scale in the future. Seikoh Fukuda, the CEO, affirmed that PTNA had not changed its main objectives since 1966, that is, to raise the standard of teaching skills and music education, and consequently contribute to the society. He mentioned that a new mission would be to raise the value of music to be one of the major subjects in schools, as the social expectation for music has been rising.
Yasunori Sato, an official of the Ministry of Education, gave speech that introduced its collaborative relationship between PTNA to enhance lifelong learning. He himself took part in the 1st Lifelong Learning event in 1989 where 400 people played 111 grand pianos altogether. PTNA also gave the Honorary Award to Tsutomu Hata, the former prime minister of Japan and the previous president of PTNA until 2007, for his longtime dedication to PTNA. Furthermore, MTNA (Music Teachers' Association of Japan) gave the International Proclamation, which recognizes PTNA for its 50 years of distinguished leadership and exemplary commitment to music and music teaching.
PTNA was launched in 1966 with a group of 30 members, and it grew to be a large organization of 16,000 members nowadays. Teachers has been connected each other by regions (branch offices) as well as by missions (satellite Stations). In the ceremony, the chairperson of the Organization Committee (Hiroshi Kumagai) and some of the stations' representatives gave speeches.
From the evening, PTNA 50th anniversary concert was held in Tokyo Metropolitan Art Space Concert Hall. Prior to the performances, a short film was displayed to introduce the history of PTNA. Here is the program of the concert.

(1) Film screening "50th Years of PTNA Activities"

(2) Duo performances
- Stravinsky: excerpts from "Le Sacre du Printemps" (Aki Kuroda & Rintaro Akamatsu)
- Mozart : 'Hai già vinta la causa' ("Le Nozze di Figaro") (Jumpei Niimi & Tomoyo Umemura)
- Ravel : Rhapsody Espagnole No.4 'Felia' (Yuhi Ozaki & Keina Sato)
(3) Concerto performances
- Mozart : Piano concerto No.26 K.587, 1st movt. (Tomoki Sakata)
- Rachmanoniv : Piano concerto No.2 Op.18, 1st movt. (Ryota Yamazaki)
- Liszt : Piano concerto No.1 (Shohei Sekimoto)
- Conductor : Chikara Iwamura, PTNA Special Orchestra for 50th Anniversary
(4) Chorus : All
- Takashi Obara: "Aete Yokattane" (So Happy to See You)
50 years is such a long way, but it has been built little by little by daily effort. Katsuko Kaneko, an Executive director of PTNA who took part in the association since 1970, was so pleased to see its development and prosperity after half the century. The new history begins from now.