What Do Piano Teachers Learn through Competition Repertoires at Seminars?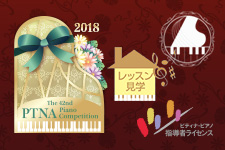 PTNA holds plenty of seminars for piano teachers to study the repertoires of the PTNA Piano Competition
. What can participants learn there? First, as most of the lecturers are pianists, participants can listen to their professional performances and feel the sounds directly. Secondly, the repertoires of the competition are divided into 4 periods (Baroque, Classic, Roman, Modern), therefore it is good opportunity for them as well as their students to listen to various styles of music and choose whatever they want. Lastly, these repertoires are chosen to fit into each age limit so that students can learn repertoires which are feasible for them.
Megumi Kaneko, one of the lecturers, says, "It would be an opportunity for teachers to start over their repertoire study from the scratch. I hope they understand that there are various ways of interpretation and wide range of emotional reaction toward music. Piano teachers are likely to stay and teach at home, so sometimes they are not aware of what is going on in the outside world. It is important to stay always afresh, as well as to keep in mind to share the joy of music together with students. I always try to enjoy the musical time with teachers, children, and their parents also in seminars."
Rintaro Akamatsu regards these seminars as the opportunities to tell the attractive characteristics that each piece has, as well as to share the respect and humbleness toward music. "I recommend teachers to try to assume themselves as lecturers, so as to find out what kind of information and approach are necessary for music making; What kind of background do these pieces have? Why do they have such music notations? How do we perform those pieces? These self-inquiries might encourage their in-depth learning."
Shohei Sekimoto tries to show the framework of each piece and give ideas how to shape it musically. "Each person has own interpretation. How the performance is attractive depends on how the interpretation is convincing. I want participants to get the hints for their own interpretations. These seminars are designed for the competition, which might sound a little bit scholastic, but I want audiences to feel the joy of music making and teaching. I always try to use allegories for children to understand music easily, and to choose useful expressions for teachers to be able to apply in their daily lessons. I also hope that as many parents to come and listen to the seminars to expand their music experiences."