Giving Ensemble Opportunities for 20 Years in STEP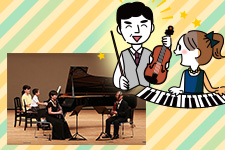 In the PTNA Piano STEP, you may play ensemble with other instruments. STEP was established in 1997, aiming at providing opportunities of stage performances for everyone studying piano. One year after, 'the Free STEP" was launched to give additional opportunities to play with other instrumentalists, besides the original "23 Grade STEP" that aimed for enhancing individual steady progress of solo performance. Some venues like Osaka and Aichi invited professional performers to play with STEP participants. In 2003, Yasumi Taki (the representative of Jasmine Komae Station), one of the lecturers of an ensemble project at PTNA at that time, began to talk about the importance and effects of the ensemble education everywhere she visited. As a consequence, regional representatives of STEP Stations began to set up ensemble stages as an option of STEP. Now Taki hopes that participants not only improve their instrumental skills, but also enjoy and respect to communicate with others by music and words through ensemble performance.
Then, what kind of ensemble opportunities do participants have in STEP?
1. Chamber music
Participants can play with duo or trio with string players. Pieces arranged for beginners are available (arranged by Yasumi Taki, Kazuhiko Koyama, etc.). Some venues offered ensemble opportunities with woodwind players, keyboard harmonica, etc.
2. Concerto
There are performance opportunities for piano concerto with orchestra (range from small to full in scale), or with orchestral sounds by electones.
3. Ensemble with drum, double bass

One may perform popular and jazz music with professional musicians.
4. Ensemble with STEP advisors
One may perform duo with one of the STEP advisors.
5. Other ensemble opportunities
One may perform with singers or conductors (conducting workshop).
6. Other options
One may play with two pianos, period instruments (fortepiano, clavichord, cembalo, etc.), or give presentation of musical analysis, etc.
Tetsuya Akiyama, the representative of Bunkyo Analysis Station, has been offering opportunities for piano concerto since 2008. The orchestra was started with 7 string players, and only 3 woodwind players (oboe, clarinet, fagot) joined in the following year. However, it was such a small-scaled orchestra that it could not produce sufficient sounds, nor create satisfactory image of concerto. Furthermore, it needed extra work for Akiyama to arrange score for this small orchestra, and also for players to achieve orchestral sounds as much as possible. In the following years, other instrumentalists (flute, horn, trumpet, percussion, etc.) joined and finally the orchestra of 25 members was formed in 2011.
Akiyama says, "Two pianos are not enough if you want to feel and understand the world of piano concerto. String players are sitting just back of yourself, but if woodwinds take charge of the melody part, you have to hear their sounds across the piano. You need a lot of opportunities to capture this kind of sense, but we seldom have. So, the quality of orchestra's sound is very important, which I put priority on. Quality not only meant to be musical elements. I try to nurture person who can manage orchestra members and their stage performances, as well as to form a production team to do arrangements and engrossments efficiently. Our orchestra is for education and experiences for people studying piano, therefore, we need to deal with each participant's own skill and experience flexibly. We have played with many kind of participants, from beginners to advanced students who got prizes in international competitions."
Akiyama recommends concerto beginners to play Haydn, Mozart, and Beethoven first. He is also willing to welcome possible participants of the Grade Superior of PTNA Piano Competition this summer, as they would have opportunity to play at the Suntory Hall at the final round.