What Are New Topics at PTNA Piano Seminars Recently?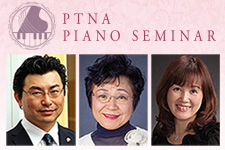 PTNA have been providing piano seminars
at its branch offices and satellite stations throughout the country since 2007. Over the last 10 years, the number of reports submitted by participants reached over 100,000. There have been various topics offered at seimars. Now we would like to introduce some of the new themes at latest and upcoming ones.
On June 6th, a workshop seminar about piano studio management was held in partnership with Ongaku-no-tomo publishing company and the PTNA headquarter, having Takao Ouchi as the lecturer. Ouchi is an author and a former employee of a bank. His workshop encouraged piano teachers to review their management styles and reconsider their strong points.
There are seminars about the structure of piano. It is important to know how the instrument is manufactured, how keyboard instruments have been developed and transformed in the history, and how different it is to play electronic pianos, upright pianos, and grand pianos. Those information would be useful when they recommend students which to purchase.
Keyboard harmonica is getting popularity nowadays. It teaches you how to breathe, to sing, and to enjoy the music. Several seminars are scheduled in autumn.
There are seminars that the PTNA headquarter hold in Tokyo: Special seminar for PTNA Piano Competition (March), PTNA Teachers' Seminar (April), Workshop for piano arrangement (Oct.-Dec.), Comprehensive Musicianship Wokshops (all year round), Piano Festival (every 2-3 years), Special Intensive Seminar.
Takako Ito, one of the PTNA teachers' members, got to know about the Bastien method and PTNA through one of those seminars. Since then, she keep attending seminars and participating lesson observation programs, etc, and had new discoveries every time. Not only did she study but also got her friends and colleagues through those opportunities. She also finds her students developed as she improves herself.
Another member, Satoko Maeda, attended the seminar for PTNA Piano Competition at first, then expanded her interests to other themes. She had already submitted seminar reports 104 times. She realized how much she has been changed over the last 10-15 years in terms of the teaching skill as well as the attitude toward her students. She hopes to keep learning and upgrading herself to be a better teacher.
The Nagoya Sakae Station (Kawai Nagoya shop in Aichi prefecture) has held seminars for 89 times in 2016, which is the biggest number among all the PTNA stations. According to a station staffs, one of the most popular topics is to cultivate the mindset as a piano teacher. Several feedbacks showed that participants had actually improved their mindset and attitudes, and that made their students satisfied and motivated, and eventually the number of student has increased. Seminars are opportunities for those who did not graduated from music colleges, to study and find new colleagues.
For those who would like to learn further, e-learning service is useful. From 2016 summer, this service has been running by the flat rate system. Currently it offers 144 programs, that include teaching seminars, teaching demonstration session, special intensive seminars, etc. and all of these programs can be watched on smartphone tablets.
Here is some rankings.
*Lecturers for Piano Seminars (2014-2017)
1. Rintaro Akamatsu (95 venues)
2. Atsuko Fujiwara (90)
3. Natsuko Nihonyanagi (66)
4. Kasumi Ishiguro, Yasumi Taki (42)
*Lecturers for PTNA Piano Competition (2015-2017)
1. Rintaro Akamatsu (42 venues)
2. Shohei Sekimoto (34)
3. Megumi Kaneko (22)
4. Takashi Fujii & Yoshie Shiramizu (20)
5. Aki Kuroda (17)