Two Young Pianists Shared the Yasuko Fukuda Prize!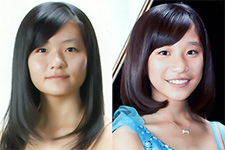 The 7th Yasuko Fukuda Scholarship Audition was held from August 25th -28th in Tokyo. After 3 lessons and the final concert, Yasuko Furumi (left) and Yukine Kuroki (right) won and shared the Yasuko Fukuda Prize. The 3rd prize was given to Yui Mikami, and forth prize to Sogo Sawada.
This audition has been held every 2 years to discover and encourage young talented pianists under 17 years old. 3 international renowned professors give lessons to each of the 9 candidates and adjudicate the final solo recital. This year, Prof. Jan Jiracek von Arnim (Germany), Prof. Stanislas Loudenich (Uzbekistan/U.S.), and Prof.Michael Lewin (U.S.) were invited. The final adjudication is executed by 7 jury members including 4 national renowned professors.
The scholarship prizes are obliged to use for studying abroad.