Aimi KOBAYASHI will perform in Teenage Pianist Concert Series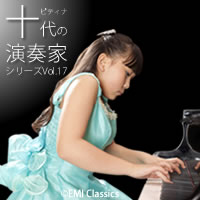 PTNA offers performance opportunities for promising teenage pianists to play before public. In April 2010, Aimi KOBAYASHI (14) who has just
released her debut CD this month from EMI Classics. Aimi won the gold prize in Jr.G grade(under 18) in 2004 when she was only 9 years old.
Her performance video has gained over millions of hits on youtube.
Aimi will play Mozart piano sonata kv.576, Beethoven piano sonata No.8 op.13, Chopin Ballade No.1 op.23, etc.

Teenage Pianist Concert Series offers young talented pianists an opportunity of piano recital in professional manner.
past performers: Kyoko TABE, Midori NOHARA, Mika SATO, Yuma OSAKI, Rieko NEZU, Yurino IZUMI, Shohei SEKIMOTO, HIbiki TAMURA, Rina SUDO, Yuhi OZAKI