Emiko Harimoto receives award from Ministry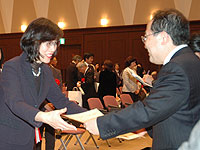 Prof.Emiko HARIMOTO, an associate member of PTNA Executive committee, received an award from MEXT (Ministry of Education, Culture, Sports, Science and Technology) commemorating her long term dedication to social education, as one of the representatives of the nationwide association PTNA. On November 20th, the awarding ceremony was held in the assembly hall in the Ministry.
Prof.Harimoto has master's degree at Tokyo National University of Fine Arts and Music, and Hochschule für Musik und Theater Hamburg. Currently she is teaching piano at Tokyo College of Music, and also serving as a jury member of PTNA Piano Competition and adviser of PTNA Piano STEP. She has been teaching a number of excellent pianists in the last few decades, such as Hideki NAGANO (member of Ensemble Intercontemporain), Ayumi IGA*, Mayuko SATA, Noriko SATO, Keina SATO (Grand prize winners of PTNA Piano Competition 2000, 2001, 2008), as well as prize winners of international competitions; Yuma OSAKI(3rd prize in Geneve 2002, Leeds 2003, etc) and Rieko NEZU(finalist in Chopin 2005) etc.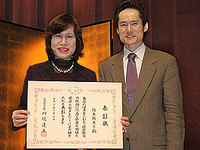 Her outstanding leadership extends to volunteering activities in PTNA committees and PTNA Station. The Festival committee where she serves as the chairperson, always drew over 800 audience in average with its unique projects. She has been involved in variety of activities since the foundation of PTNA, and her remarkable teaching skills, deep insights and wide perspectives toward music always encourages the association and music world in Japan.
She is also invited by many international competitions as an adjudicator in ARD München, Maj Lind, Gina Bachauer, Orlean, Asia-Pacific Chopin, etc. and as an honorary guest in Chopin (Warsaw) 2000.
She is the 7th recipient from PTNA, followed by Mme.Yasuko Fukuda (Founder), Yasuko Nakayama (Adviser), etc.