The New Way of Making Promotion of Concerts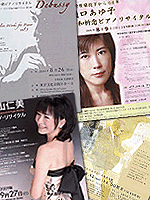 Synergism becomes a key to make wider promotion of concerts in Japan. PTNA expands the promotion service of its supporting concerts in terms of ticket selling and production of concert videos, in collaboration with related companies. Both are on-demand basis, regardless of the membership.
Ticket selling is now available to consign partly to Japan Travel Bureau (Entertainment section), the biggest travel agency in Japan. Their rich experiences in online sales system and cliental service is expected to bring good results in promotion of piano recitals.

"Packaging" the concert on CD-ROM or DVD is also one of the after-services being sought- after by performers. One can ask Video Classics co., our collaborator, to produce 5 copies of CD-ROMs free of charge, and is also privileged to upload videos on PTNA youtube channel.
Besides those on-demand services, PTNA helps enhance the publicity by distributing information on our website in three dimensions, "list of concerts", "piano encyclopedia" and "pianists" pages that are interrelated each other.
For instance, one who is studying Beethoven Sonata No.31 Op.110 looks into piano encyclopedia, and discovers several concerts where the piece will be played, then he/she check up the pianists by clicking to "pianist" page and get pianist's profile and some audio tracks in archives. After determining to go to the concert, he/she purchases a ticket through JTB entertainment service directly link from PTNA. And after the concert, he/she can see it once again on youtube and share information with friends.
We expect this whole online promotion system would enhance people to go to the concert, and at the same time, help pianists to acquire new audience.