Lesson Observation & Members Exchange - A New Collaborative Event Begins!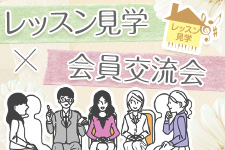 A new collaborative event for young piano teachers will be launched from May.
This event, consisting of 1.5h of lesson observation and 1h of members exchange, is mainly designed for new members who enrolled after March 2016 and young members under 35.
The first half, the lesson observation program, is to see and learn how the experienced and accomplished teachers give lessons at their piano studios. The latter half, which used to be more or less 30min, will be extended to one hour so that participants could communicate with teachers and fellow members more intensively.
How and what did participants learn there?
Asami Kure (Osaka), 2nd year in PTNA, participated in the lesson observation program in March 2017. She started teaching a while ago, but was not confident about her way of teaching. "Piano teacher has a great responsibility to teach joy and meaning of music, but in solitude. I wonder if I could do more, and started to research on educational materials, teaching skills, etc. and finally found the PTNA website and learned that they are giving seminars and lesson observation programs for piano teachers. After signing up to this organization, I took part in the lesson observation program and visited Akiko Inoue's piano studio. What surprised me was the "eagerness" that every student has. They had done all the assignments at home, and improved immediately by teacher's advices during the lessons. And I admired Ms.Inoue's accurate instructions, such as "listen to the sonority", "how to relax", "how to do dynamics in a phrase", which were easy to understand even for kids.

She encouraged me to let my students take part in the STEP. STEP gives certificates to all the participants and awards those who continuously play on stage, so I thought it might help them keep motivated and improve in a long run. It is not as hard as competition, but encourages them to set a goal and make efforts. At the STEP last February, I was so impressed to see their serious attitudes on stage, and their relaxed faces after they accomplished their performances much better than they had expected. They were pleased to obtain feedbacks from professional pianists, as well as to play on a big stage, and also to receive messages from students of other piano studios. I became confident about my way of teaching. I would like to revise things that advisers pointed out, and to try again next year.
Etsuko Hasegawa (Saitama), 2nd year in PTNA, took part in the new members exchange event last year as she wanted to talk with other new members. "I was a little bit awkward to join the Station in the neighborhood, but learned how it works. At the group session, I talked with various members of different ages and affiliated colleges, and knew that there are various approaches to piano teaching. We exchanged LINE numbers, and has been communicating with each other since then about STEP, seminars, etc. We set up a private lunch meeting the other day. Now I feel that I am not alone.
After this exchange event, I began inviting my students to take part in STEP. It would be great for them to enjoy playing on stage in different atmospheres and for different advisers at each venue, without any pressure like competition. It also help them to build on stage experiences one step at a time."