Let's Go To Trial Lessons!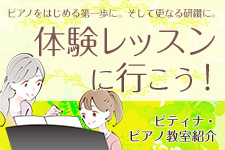 When you want to start learning piano, how do you find a piano teacher? Do you want to take a trial lesson before making the decision? Through the PTNA students-teachers matchmaking service (piano lesson studios' search site, see
PDF
),
now you are able to find teachers who could offer you trial lessons.
As you may get nervous and excited before meeting new teachers, they may get excited and wonder who you are and how often you want to take lessons, etc.
Satomi Nakagawa (the representative of Tamagawa Station) offers a trial lesson for newcomers. She introduces lesson schedule, annual events, educational materials, and also asks them to play a little bit no matter how they are experienced or not.
PTNA executive members also offer trial lessons. Not only students but also teachers may use these opportunities, for updating teaching skills, or for adding the finishing touch for the competitions / concerts, etc.
Yasumi Taki (a member of PTNA Ensemble & International Exchange Committee, the representative of Jasmine KOMAE Station), often gives trial lessons to piano teachers. She always says, "No Olympic coaches perform better than athletes. The same thing can be said to the piano lesson. Students are better in playing, but teachers are better in teaching. However, it is important to have the same experience as students. So I recommend teachers to take other teachers' lessons as well as to play piano on stage."
---
Teachers who have already registered to the PTNA students-teachers matchmaking service are able to edit information through individual membership page (PTNA My Page).
Information items;
-Lesson information (message from teachers, teaching genres, educational materials, lesson fees, lesson schedules, etc.)
-Images (profile photo, lessons rooms' images)
-Videos (daily lessons, studio concerts, teachers' performances, etc.)
PTNA recommends teachers to offer a trial lesson with a certain amount of fee, as it is the important opportunity for both teachers and students.