Data
3.Self Learning Opportunities for Teachers
Study with Professional Teachers (weekly); Number of Seminars for competitions and pedagogies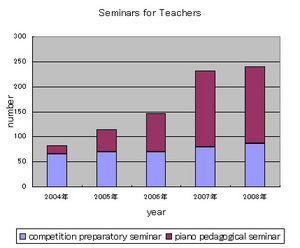 One of the learning opportunities for piano teachers is seminar. 272 Teaching Seminars were held in the year 2008. Topics ranged from the introduction of basic piano pedagogy, to applied techniques of performance. To enhance their practical application in daily lessons after the seminars, participants were recommended to submit reports to the lecturers who, in return, gave it back to them with supplementary advice.
Study with Professional Artists (annual); PTNA Piano Festival
PTNA Piano Festival is an annual event that pursues the higher achievement in piano education. Among the programs of the last five years, the lecture of K.Zimerman (2006, vol.60) was one of the highlights. Over 1,500 piano teachers shared the philosophical idea of the pianist. The lecture of piano history with ten early keyboards (2008, Vol.62) was another center of attention.
PTNA Piano Festival Program 2005-2008
Vol.62 Variety of Keyboards / Genzo Takehisa
Vol.61 Pianos that maestros pursued / Franz More, Alexander Koblin(pf)
Vol.60 Zimerman unveils secrets of music / Krystian Zimerman, Shohei Sekimoto(pf)
Vol.59 Physical Revolution for pianists -All about Mikimoto method / Sumiko Mikimoto