2.For All Piano Learners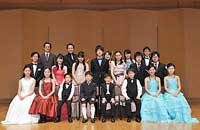 PTNA provides stage experience for piano learners of all levels. It is no exaggeration to say PTNA established two systems that is essential for improving one's skills; a constant repetition of everyday lessons and stage performance.
The first system is the annual PTNA Piano Competition. This event is an opportunity for teachers to study, as well as finding and educating young talents.
Meanwhile, PTNA Piano STEP is a continuous stage performance opportunity open for pianists of all age and levels, taking place all over Japan throughout the year. Students can supervise one's own performance records and naturally long for the next performance opportunity.
These events are presented by the PTNA branch offices and "stations". We promote active communications between local piano teachers, as well as students in different studios. PTNA serves as a pipeline for piano teachers to contribute to the society.
PTNA Piano Competition | PTNA Piano STEP | Grand Muse
PTNA Piano Competition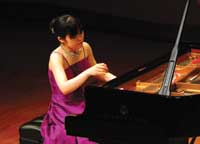 Established in 1977, PTNA Piano Competition started for the purpose of expanding the base of the pyramid of piano culture and enhancing the general level of piano in Japan. With more than 20 divisions including four-hands and Grand Muse, this is a big opportunity for children through young pianists to compete in a national standard, as well as a gateway to the competitions overseas.
Preliminary rounds take place over 200 venues, and finals are held late August in Tokyo. PTNA Piano Competition is one of the largest piano competitions in the world, and over 40,000 contestants participated in the year 2007.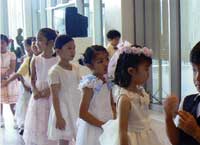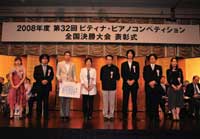 PTNA Piano STEP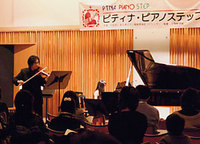 Developed in 1997, this is a system that encourages the enjoyment of learning the piano. We offer a stage performance opportunity in which one can freely expresthemselves up on stage. STEP offers a flexible style of selecting pieces from more than 3,000 music repertoires, and one can choose evaluation styles of his or her choice.
Each performance comes with a "STEP message", a hand-written comment sheet from STEP Advisors, who are experienced teachers selected from PTNA membership. In the recent years, STEP is expanding its project to chamber music, and mini-concerts performed by Advisors are very popular.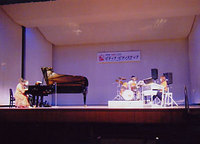 Grand Muse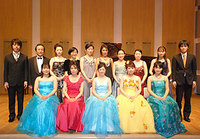 PTNA established a division called Grand Muse, in which adult piano lovers and amateurs get a chance to perform on stage. Candidates are increasing each year, and many study piano earnestly between their busy occupations. The presence of amateur piano lovers is stimulating piano learners and professionals, and teachers are realizing the importance of appreciating their performances and showing them to young learners.