4.Collaboration Projects
PTNA cooperates with various external organizations, and offer collaborations with other fields. Teaming with schools throughout Japan, we send local pianists and instrumentalists to schools as guest performers. Teaming with the Marunouchi area, the metropolitan base of Tokyo, we organize a mini-concert in the public space for the purpose of promoting the musical culture to general public through the piano.
Classroom Concerts | Musse | Maru-biru Concert
Classroom Concerts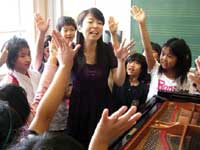 With the help of our PTNA local branches, this project was launched in 2005. Professional pianists visit elementary school classrooms and perform a short concert within the regular music class. Children get the opportunity to listen to live classical music and communicate directly with professional pianists. Concerts vary from solo piano music to chamber music with strings and woodwind players.
Children can experience professional music in their regular music classrooms. This outreach program helps to develop a children's sound mind to appreciate music and playing instruments. The three principal pillars, "School Education", "Private Education", and "Local Society" promotes musical education, and through these concerts and small lectures, we aim for a higher number of music lovers in the local society.
Musse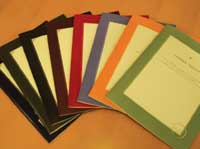 This on-demand music score selling service started in November, 2005. In Musse, anyone can buy music scores from one piece, and able to create one's original music book. One can order through the PTNA internet website. At the moment there are more than 7000 pieces available. Publishers such as Edition Peters, Musica Budapest, Breitkopf, Doblinger, and Kjos have joined this project. Only Musse can combine several scores from different publishers into your one-and-only music book. In Musse, one can also find abolished music scores, arrangement scores, repertoire of unpublished composers, comtemporary music, and many more.
Musse suggests a new way of distribution of music scores. Musse links with PTNA Piano Encyclopedia, and plans to expand the piano repertoire.
"Marunouchi Building 35 Concert" Project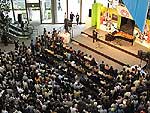 This is a free piano concert series arranged for the audience to get familiar with classical music. Started in 2006, the concert takes place at the lobby of the 35th floor of Marunouchi Building, the metropolitan base of Tokyo.
This concert has an advantage to the facility, music lovers, and audience, and provides a performance space in the open area of the building where many people gather in one place. PTNA coordinates these concerts at the Marunouchi Building, known as "Maru-biru"(Mitsubishi Estate holdings). In addition to regular weekly concerts, many people enjoyed the free salon-style concerts around the Marunouchi area during the national holiday week in May.
PTNA is now expanding the concert to other Marunouchi buildings, for the purpose of promoting classical music in the business & entertainment area of Tokyo.